Not sure if anyone has used it but the below is taken from Wikipedia.
I bought a machine I NZ which I used the team horses with amazing results. Brought home to treat Fergus again with amazing results. Tried it on one of my agisters horses who was short stepping and got a bit cranky when pushed. They went to PC day after treatment and horse was forward, eager and moving well.
Another WA person got one in NZ and was treating a horse with a fracture and she said the bone healed in 4 weeks and the little bone chip dissolved
Is very popular for treating pain in people and I have to say I have seen some awesome results in horses. Has anyone else tried it and if so what were your results
Wikipedia excerpt below
Pulsed electromagnetic field therapy (PEMFT), also called pulsed magnetic therapy, pulse magnetotherapy, or PEMF, is a reparative technique most commonly used in the field of orthopedics for the treatment of non-union fractures, failed fusions, congenital pseudarthrosis and depression. In the case of bone healing, PEMF uses electrical energy to direct a series of magnetic pulses through injured tissue whereby each magnetic pulse induces a tiny electrical signal that stimulates cellular repair. Many studies have also demonstrated the effectiveness of PEMF in healing soft-tissue wounds; suppressing inflammatory responses at the cell membrane level to alleviate pain, and increasing range of motion. The value of pulsed electromagnetic field therapy has been shown to cover a wide range of conditions, with well documented trials carried out by hospitals, rheumatologists, physiotherapists and neurologists. There are several electrical stimulation therapy devices, approved by the FDA, that are widely available to patients for use. These devices provide an additive solution that aid in bone growth repair and depression.[1][2]
Just so you get an idea of how much of the horse is treated below is a photo of my mare Yalambi Waltzing Matilda getting her treatment in NZ. She has now gone to Europe ans is with Skito and the team in Austria. One show and the enquiries asking if she is for sale are coming in.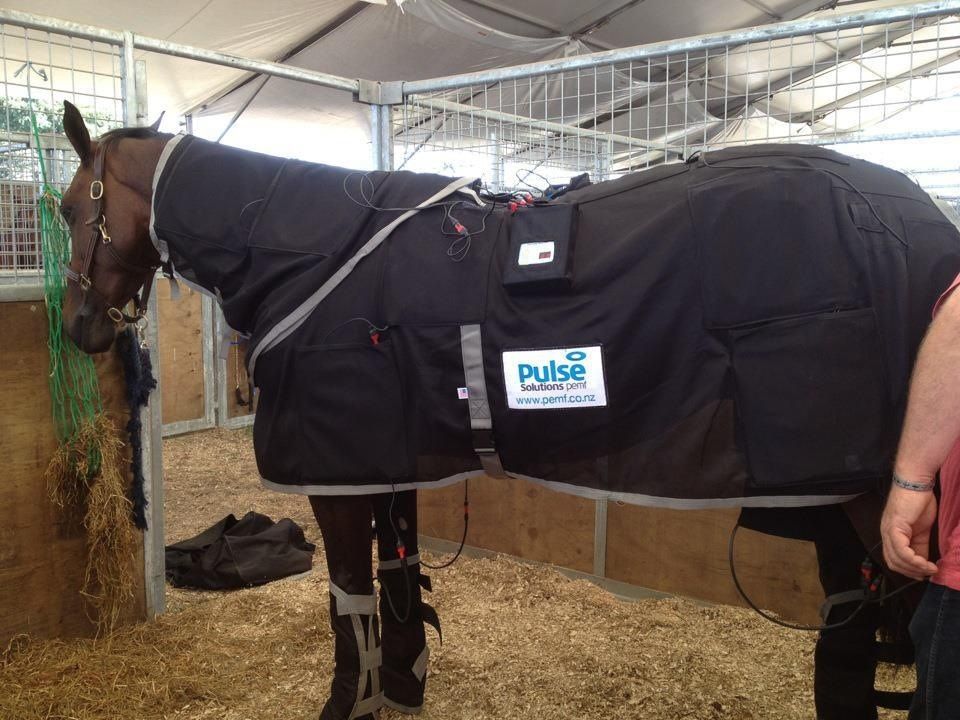 I would be interested to hear other people's results with it